Venice, June 4-5, 2020
Global Campus of Human Rights
UPDATE: We are deeply sorry to announce that this event has been cancelled due to the COVID-19 outbreak.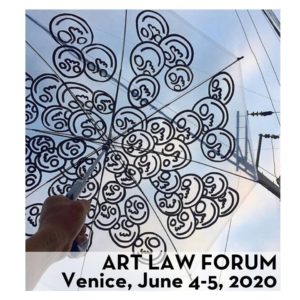 Initiated by Avant-Garde Lawyers, the Art Law Forum seeks to become an annual interdisciplinary gathering bringing together artists and art-interested legal professionals, including academics, judges, and lawyers, to collectively discuss how the law can be used to protect and expand the space for artistic expression. Art's ever-evolving forms and content pose a significant challenge to the law. The two domains appear to live in separate universes and yet, it is in a courtroom that the obscene, the immoral, and the outrageous in a work of art are finally assessed. One of the Forum's primary aims is a reconciliation between these two spheres, bridging the divide between legal professionals and artists by clearly communicating the ways that the law is both used to justify the restriction of creative endeavors, at the same time as a mechanism for protecting artists and strengthening artistic freedom of expression. 
Karima Bennoune, UN Special Rapporteur in the field of cultural rights, will give a lecture at the Forum, and the program will also include a performance from Ramy Essam, whose songs served as anthems of resistance during the Arab Spring movement of 2011.
Participants will be selected based on their professional profile and relevant work experience with artists and/or in the field of freedom of expression. Given the high-level nature of the event, the number of places is limited and priority will be given to those that register first. We strongly recommend that you pre-register using the link below before the official registration is open on the 5 of March 2020. 
The price for participation in the forum will be 250 EUR/275 USD including all meals and activities. A limited amount of partial and full participation fee waivers is available for NGO representatives and individual lawyers and artists. Please indicate if you would like to be considered for a waiver in the pre-registration link here.
Avant-Garde Lawyers, Artists at Risk Connection, and Columbia University's Global Freedom of Expression initiative are actively seeking sponsors and partners to collaborate with on this crucial project. If you would like to partner with us, please fill out this form.
The aim of Safe Passage Europe is to ensure that at-risk artists seeking safe passage to Europe are provided with legal advice and representation. At-risk artists who qualify for assistance from Safe Passage Europe will be referred to a pro bono attorney and accompanied throughout the pendency of the case by our team in Europe. 
AGL's network of pro bono lawyers, AGL has partnered with the Artists at Risk Connection, at PEN America, to improve access to legal services for at-risk artists. We have mapped accomplished lawyers across the globe to create a network which forms a pool of legal experts to which people in the arts field could turn to when in need of legal aid. This is a novel project which attempts to facilitate access to legal help for at-risk artists by connecting them directly to specialized lawyers in their own country. We focus on countries where artists run a high risk of being submitted to censorship, intimidation, and arrest for their creative and expressive activities.
If you're an artist fleeing persecution or censorship and would like to know if you qualify for assistance from Safe Passage Europe, contact us at contact@avantgardelawyers.org. Be assured that we respect your privacy and are committed to treating your information confidentially.
There can be no greater difference than between a judge and an artist and yet it is the duty of the judge to reconcile law with unconventional art. It is in a courtroom that the obscene, the immoral, and the outrageous in a work of art is finally assessed. But how far can a work of art go before it is judged to have violated standards of decency and should the answer be a matter of private or public judgment? Who, above all, qualifies as an expert in such matters?
The way that art is judged in the courtroom shapes the way it is perceived at large and has a direct consequence on how it can be appreciated by the society. And yet, how informed are judges and lawyers in art theory and form and on what grounds do they speculate about artistic merit and motive?
"Art on trial" is a series of workshops for lawyers designed and delivered by AGL Director. The next course takes place in March 2020 at the Europen Court for Human Rights. Read what former participants say here.
Read Andra's article about the significance the European Court of Human Rights attaches to the protection of artistic expression and the ways in which its case-law regulates the dynamics between artistic freedom, public morals and "the feelings of others"
If you would like Avant-Garde Lawyers to design and deliver an audience-specific course on freedom of artistic expression, please get in touch with Andra andra.matei@avantgardelawyers.org.
The "Digital Lawyer Project" is a joint initiative of AGL along with the Oslo University. Watch this space for more info soon.