Art and artists are questioning and inspiring discourse on societal standards, while simultaneously bolstering democratic values. Because of this, they are frequently subjected to censorship, intimidation, harassment, and legal action for simply exercising their fundamental human rights. In various regions worldwide, artists are encountering escalating restrictions on their rights and civil liberties. This is especially true in countries with authoritarian regimes or with a history of suppressing dissent. In such instances, artists are often targeted for their political views or their work that challenges the status quo. Some governments use censorship and other forms of repression to silence artists and prevent them from expressing themselves freely. However, the impact of censorship on artists goes beyond just the suppression of their creativity. It can also have a chilling effect on the wider society, limiting free expression and undermining democratic values. In 2021, more than 1,200 violations of artistic freedom worldwide were documented by Freemuse [State of Artistic Freedom 2022, Freemuse], a continuing deterioration as compared to 2020. This is why it is important to defend the rights of artists and ensure that they are protected from censorship and other forms of repression.
In October 2022, AGL organized and delivered an online course entitled 'The 'Art' of Defending Artists', which trained cultural and human rights defenders on navigating and using international and regional mechanisms in order to provide support to artists at risk or unable to exercise their freedom of artistic expression. Through the course, AGL trained stakeholders in the domain of artistic freedom, in order to equip them with the knowledge, skills, and tools to competently defend artistic freedom in regions across the world. Experts who taught the sessions have significant experience working within these international and regional mechanisms, including senior staff from regional courts and the UN. 

In 2023, AGL is offering 'The Art of Defending Artists 2.0',  a refined version of the course after incorporating feedback from the first edition.
The course will be taught online (over zoom) over a period of six weeks during the months of November and December. Experts shall deliver the courses in a manner that incorporates theoretical as well as practical learning, through the delivery of presentations, group exercises, and discussions, encouraging self-directed reading as well as analysis of case studies. Before the session, the expert shall share preliminary readings. The readings are necessary to be able to follow the course, and hence the participants shall be encouraged to peruse them in order to ensure a fruitful discussion.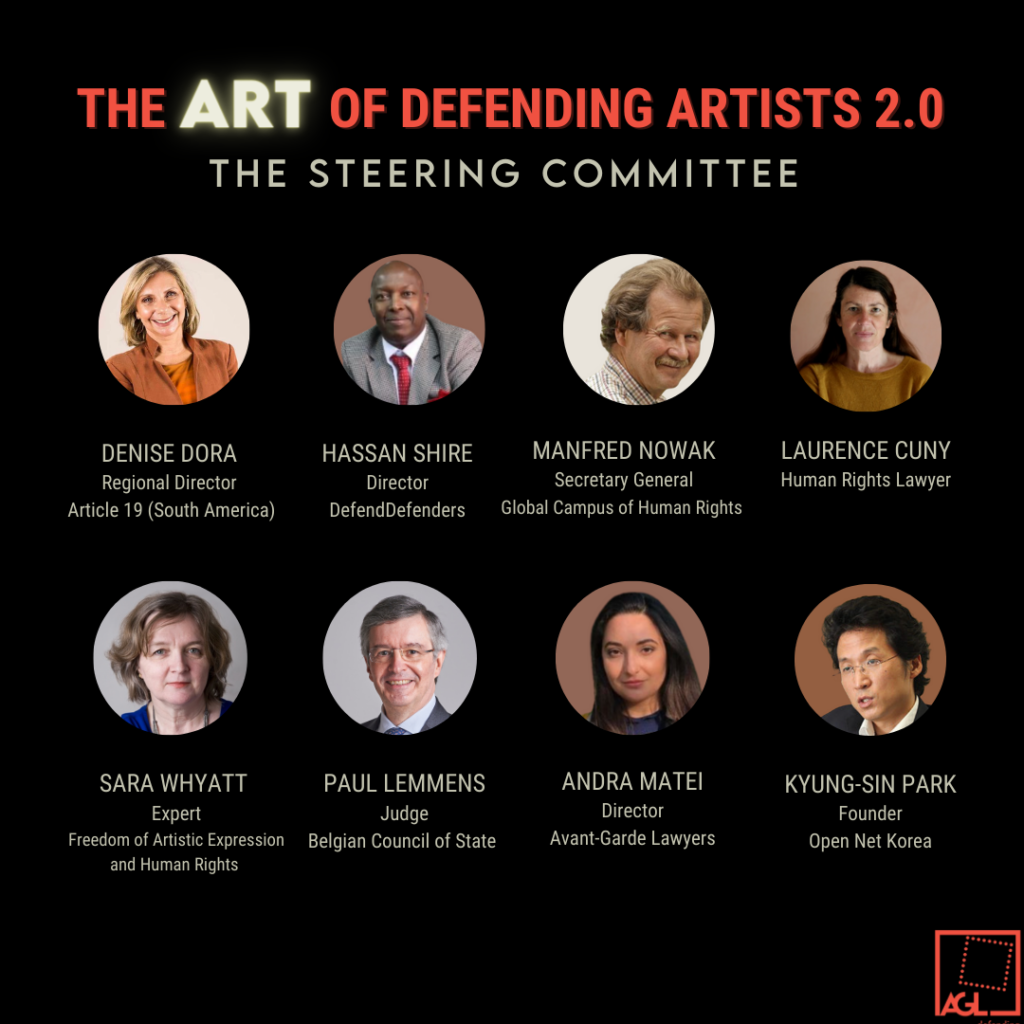 LEARNING OUTCOMES
Successful completion of the modules should allow participants to:
Navigate the international mechanisms and regional bodies and design litigation strategies for artists at risk
Gain a deeper understanding of the procedural specificities of the international mechanisms and regional bodies
Use legal and advocacy-based tools in order to successfully defend artists in situations of vulnerability
We welcome individuals who have previously collaborated with AGL to access the course free-of-cost! Please fill in the form below to register yourself for the course.
FAQ 
Q. What is the language of instruction?
The course shall be taught in English.
Q. I am still a student, can I apply for this course?
We welcome applications from students interested in learning more about artistic freedom. Students who have taken up coursework in human rights, political science, international relations, law or related fields are encouraged to apply. 
Q. Will there be an examination at the end of the course?
There will not be an examination at the end of the course. Participants will be expected to complete exercises shared by the experts of each individual session. Participants shall receive a Certificate of Completion and a Transcript of Records at the end of the course.
Q. Are the preliminary readings for the course mandatory?
Participants are strongly encouraged to peruse the readings recommended for the sessions as they will help them in participating in the discussions. 
Q. Do I need to keep my camera on for the duration of the course?
While it is not mandatory for participants to keep their camera on during the sessions, it is highly encouraged.